Software Services
Online Identity
Infrastructure Services
Connectivity
Workforce Management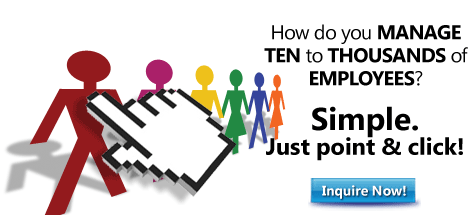 The Human Infrastructure Management System (HIM) is a Workforce Management and HRIS application designed for today's connected and changing working environment.
Even as organizations increasingly find themselves managing teams of people spanning regions, continents and, necessarily, time zones many more companies find themselves operating beyond normal working hours by virtue of the nature of their services (such as BPO companies).
This online, cross-boundary, 24 hour operation, multi-time zone environment is hardly considered by existing HRIS solutions which tend to be designed for single-site environments.
The Human Infrastructure Management (HIM) system is designed for the modern organization. Accessible using a web front-end, it can be customized (yet another feature not available with other solutions) to fit the organization's personality (ie style) and integrated with a company's legacy/existing infrastructure (such as an existing Time and Attendance system). In fact, HIM runs on top of a portal infrastructure which allows new services to be added and made available to its users.
Online, customizable, integration-capable, multi-time zone. With HIM, managing people just became easier.
Service Features
Turnkey Service
HIM comes with solid HRIS features most organizations would ever need. However, it can be customized and extended even by the organization's themselves!
Team-based Workforce Scheduling and Management
Allow department heads to manage the schedule and leaves of their staff. View real-time and historical reports to instantly inspect staff attendance performance. Perfect for Call Centers and BPO's!
Secure Multi-User Accessibility
Empower managers and personnel to interact securely on scheduling and leave issues. The self-service infrastructure not only speeds up requests, acceptance or otherwise, but also ensures all of these are saved for recording and review purposes.
Flexible Business Rules
HIM's pay credit attribution engine is flexible, allowing organizations to set their own business rules on pay credits based on any available factor.
Accurate Pay Attribution
No manual or spreadsheet calculations required. No matter what the type of schedule the employees have the system can accurately attribute the pay based on configurable rules and settings - to the second - making payroll generation an easy, accurate and painless task.
Integrate with existing Time and Attendance Systems
Integrating HIM to your Time and Attendance System will allow you to keep your existing attendance infrastructure. Integrate to get real-time attendance reports!